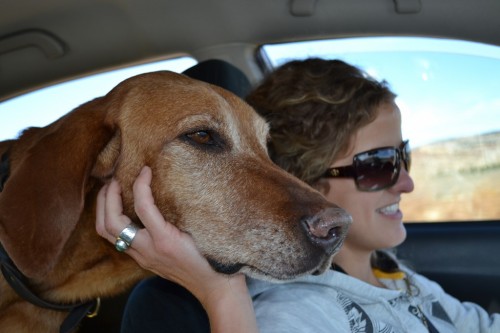 Hello,
My name is Kassi and my dog's name is Nesta.  We're the best of  friends, together almost everyday for 10 1/2 years, just us for the most part – doing it all together, the way best friends do.  We have quite a story, actually.   But instead of delving into our entire history from the get-go, I will start with where we are today.  Today he and I are living together in my home state of North Carolina, after moving away from his home state of Colorado.  We have been living here for almost a year, and I'm very glad that we were already here when his cancer story began to unfold.  We miss Colorado every day, but we know that it will always be a huge part of our story and we will always have those amazing memories.  It's the experiences in life that have shaped who we have become and we are so thankful for them.  After all, what really matters is the present moment – and home is where my dog is.
It has been almost 8 weeks since we got the horrifying news that he has osteosarcoma.  On Nov. 16th the vet came back into the room after taking x-rays of Nesta's leg, which my boyfriend and I were convinced had a torn ACL, but the Dr. had some surprisingly worse news to share.  We were then referred to an oncology department in Matthews, NC.  After confirming the prognosis there, I ended up making a quick decision to have his leg (and the awful bone tumor) removed that next Tuesday, two days before Thanksgiving.  This was such a difficult week for me, the worst that I can remember in a long time.  I am so thankful I had the support of the wonderful man in my life and of my family and friends.  There were so many emotions and so many hard decisions to make in a matter of a few days.  Still this continues, but this journey has begun, and Nesta and I are enjoying each day as it comes.
It has been about two months post surgery and he acts as if he never needed that leg anyway.   He is adjusting to life on three legs remarkably well.  This comes as no surprise, because he has always been an athlete – a mountain climber, ball catcher, bike companion, etc.  However, now that we have been going on some longer walks, I am starting to notice he gets tired quicker.   I now am realizing after reading some info here on Tripawds that it is important to do some post amputation PT with him.  He is showing a few signs of weakness in his one hind leg, it dips down sometimes when we are walking.  I need to start some core strengthening with him.
Getting his diet figured out has been a challenge lately – Do I make homemade meals from scratch or mix a little bit of good quality kibble with fresh meat and veggies?  I've mostly been doing the later, but I'm starting to feel I need a set regimen for his meals  – a program to stick to.  I need to find a good source for meat, that's not breaking my bank account and I need to get used to a recipe I feel good about feeding him.  Until then, I am a little worried I am not getting him what he needs in his diet.
I've been working with a holistic vet in my area who has helped me tremendously with supplements and alternative therapies, but second opinions are in need, so I have made contact with Dr. Cheryl Cross in Knoxville, TN who practices integrative veterinary medicine.  She was a referral from Brian Douglas who owned Shiva – the famous golden retriever who survived osteosarcoma for 3.5 years after her initial diagnosis, with no chemo.
For the record, I have chosen not to put Nesta through chemotherapy.  A decision I did not come by easily, yet deep inside I knew it was not the right path for us.  This is why I feel it to be critically important that I do everything else in my power to aid Nesta in his fight against this awful bone cancer.  He has been a God-send in my life – a miracle dog, and healer, peace-maker and my soul mate.  I owe it to him to help him fight this awful disease.  I know there is a beginning and an end to everything in life – but I'm not convinced that this is his time yet.  He is only 10 years old and otherwise in great shape, and I feel he still has a reason to be here on the Earth.  His wonderful story is not done.